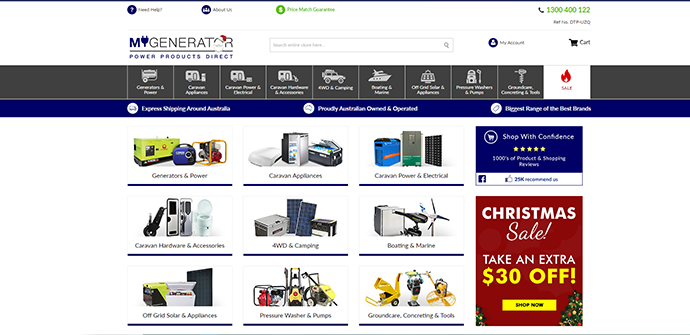 My Generator is Australia's premium online retailer for portable power products. We provide the largest range of high quality power products for three main segments in the market.
Firstly, we offer market leading appliances and products in the Recreational Vehicle (RV) Sector, being appliances for Caravans / Motorhome's, Camper Trailers, Boats / Yachts and 4WDs. This RV equipment is for people on the go, and includes 12 volt caravan fridges, portable camping fridges, caravan air conditioners, RV cooktops, caravan batteries, camping power packs, inverters for camping, DC battery chargers, caravan solar panels and associated 12V accessories.
Secondly, we have Generators to suit every application and budget. From small silent camping generators right through to large prime power / industrial backup generators, and everything in between, including; inverter generators, worksite portable generators, domestic backup generators, auto start generators, 3 phase generators or large stationary diesel generators.
Complementing our above premium power product ranges are our other associated premium power equipment products such as pressure washers, water pumps, other equipment & tools, as well as Offgrid & Solar appliances.
Our leading brands include; Dometic, Yamaha, Enerdrive, Evakool, Engel, Redarc, Victron, Briggs & Stratton, Kubota and many, many more. All of our products across our site from all of our aforementioned segments come with comprehensive warranties and nationwide servicing with spare parts support. We deliver to customers all over Australia. So spend some time browsing our online store or chat with our Australian Customer Service team who are here to help you with any questions you might have.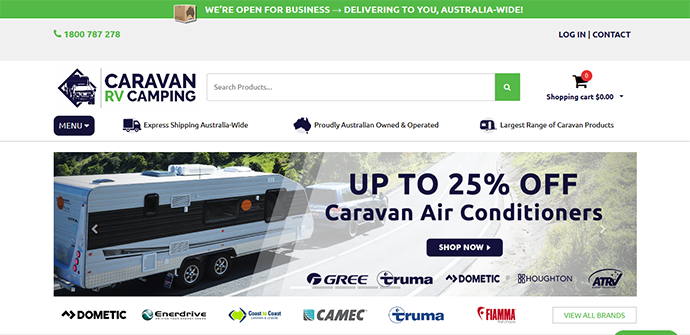 Caravan RV Camping is Australia's No. 1 Caravan Appliances, Accessories and Spare Parts store. Originally formed as part of a small repair centre, we have now become an online superstore which is the first place Australian's turn to for everything Caravans and Recreational Vehicles.
We pride ourselves on offering the most comprehensive range of Caravan products that are backed with industry leading professional advice at competitive prices. We endeavor to offer everything from the front bumper of your 4WD, right through to the spare tyre on the back of your Caravan / RV. We have the largest range: thousands upon thousands of Caravan products - and even if we have don't have your product/components online, we are happy to source on request.
We have the best brands; a focus on premium products from manufacturer's providing comprehensive warranties and after sales support. Best selling brands include; Dometic, Truma, Camec, Coast to Coast, Thetford, Evakool, Bushman, Enerdrive, Fiamma, Engel, Carefree and many, many more!
We endeavor to provide the best product content, customer reviews and Caravan expert's recommendations. Our experienced team is solutions focused, to help you get the product, accessory or part you need for your Caravan, Camper Trailer, Motorhome, 4WD or campsite set up! We offer the most efficient delivery experience; we have access to stock from warehouses closest to your location. Our focus on value for customers; providing product pricing and shipping savings through efficiency gains and value-add promotions – look for bonus items with our popular caravan appliances!
So feel free to shop our site to research the best products for your next adventure - you can also chat to our Australian based team on live chat or email.